about norman
Norman Croucher (OBE) is the acclaimed mountain climber who, despite having two below the knee artificial legs, set out to climb just one of the world's 14 mountains which exceed 8,000 metres (about 26,250 feet) or as he put it "join the 5-mile high club". His goal truly was a near impossible dream.
Alongside such people as round-the-world yachtsman
Chay Blyth
, the World Motor Racing Champion
Jackie Stewart
and athletics champion
Brendan Foster
, Norman has twice been chosen as Man of the Year.
"Norman, I take my hat off to you." Lord Hunt
He has been the subject of a "This is Your Life" programme and received an OBE for his voluntary work for disabled people. He was the first disabled person to be appointed to the
Sports Council
. Norman is a
Paul Harris Fellow of Rotary International
and a
Winston Churchill Memorial Fellow
.
With Falklands veteran Simon Weston, he received a special "Men of the Years" award for continued achievement in celebration of the scheme's thirtieth anniversary.
"There is no one like him. His extraordinary achievements have earned him a place in climbing history". Sir Chris Bonington
learning to fly
One of Norman's most exciting recent adventures was a
tandem paragliding flight in the Lake District, which he described as the most thrilling experience he has ever had. The flight was filmed as part of a profile of Norman for BBC
Inside Out.
A clip from the film is available
here
.
charity work and campaigns
Norman is committed to a number of campaigns and charities including
Hospice Care
,
ShelterBox
and
Rotary International
.
Norman has also bee involved with the
Alpine Club's
Spirit of Mountaineering Initiative
and with developing sports for the disabled, through the
Sports Council.
Both Norman's paper's for the
Sport's Council
and the
Alpine Club
are available on this page, as is the full
Spirit of Mountaineering Initiative
brochure.
a challenge of a different kind
"One of my toughest ever challenges was going against the will of Sir Ludwig Guttman in promoting a wider spectrum of sports for disabled people than he wanted. How you contradict a man who was a hero for saving many jews during WWII, and who also saved many lives by transforming Stoke Mandeville Hospital?

It was a miserable time for m, but it came down to a clash between the limited vision of an old man, and the desire of people with disabilities to participate in any suitable sport, including adventure sports, which were not on the 'menu' at what seas unkindly, but perhaps justifiably called "Guttman's Ghetto" - Stoke Mandeville Sports Stadium.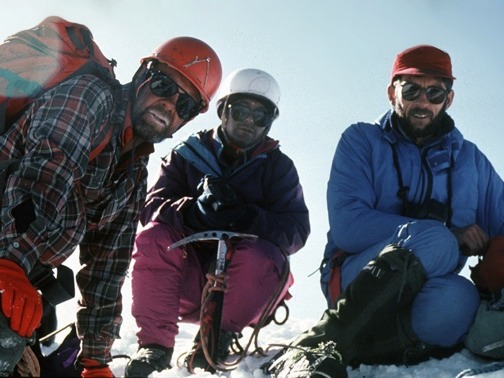 what next?
"In November 2012 I was diagnosed with bowel cancer", says Norman.
"Radiotherapy and chemotherapy followed, and I shall soon discover whether an operation his required. After recuperation I plan a survivors expedition back to the Chilchorn (2,782m / 9,127ft) in Switzerland, to raise money for our local hospice organisation,
Exeter Hospice Care
."
"The other survivors will be
Claire Bradford
, who has survived a life threatening brain tumour and photographer and mountaineer
I
an Swarbrick
, who broke his neck in a scooter accident eight years ago."
Norman has previous experience of running survivors trips,
having led Courtney Farmer on an expedition to the Pyrenees in 2010, reported in the
Alpine Journal
(click icon to download). This time, as he battles with cancer, Norman is planning to be both participant and leader in his next survivor's trip.
"Not being one to give up easily, without bottled oxygen, Norman climbed the sixth highest mountain in the world, Cho Oyo in Tibet, which stands at 8,201m (26,906ft)."
bookings
To book Norman for a talk or lecture, please visit
The Right Address
or call +44 1895 827 800.
Please note that all Norman's lectures include multimedia content (Powerpoint presentations, slideshows and video).